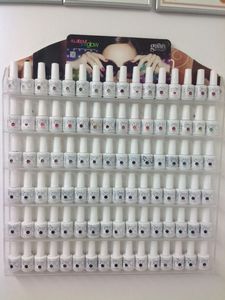 Gelish
Gelish lasts up to 21 days & is a gel in a bottle nail treatment that provides a stronger nail protection.
Gelish is great for everyones natural nails especially weak, brittle nails that flake & nails that have previously had extensions.
If nails are exceptionally weak then a layer of Structure Gel can be applied under the Gelish Colour.
There are currently 112 colours for you to choose from, including neons, glitters & on-trend colours.
All the below includes; File, Cuticle Tidy & Gelish Application.
Gelish "Spa" Pedicure also includes; Foot Soak, Exfoliation, Hard Skin Removal & Massage.
 
Gelish Manicure
 
£25
Gelish Pedicure
 
£25
Gelish French Manicure
 
£30
Gelish French Pedicure
 
£30
Structure Gel (additional layer for more strength)
 
£2
Gelish Spa Pedicure
 
£35
Gelish Spa French Pedicure
 
£40
Removal Only
 
£8
Gelish Colours

After Care Advice

To prolong the life of your Gelish & to prevent any damage, dissolving & chipping;

- Always wear gloves when washing up & cleaning

- Avoid getting suntan lotion & insect repellents on your nails as they contain "DEET" which will dissolve Gelish

- Avoid picking ie labels etc

- Use Solar Oil on your cuticles every day to condition & help prolong the life of Gelish (Mini Solar Oils available for £4 each)